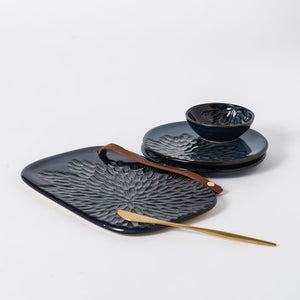 The perfect set to transform your meat and cheese into a stunning spread with our handcrafted Share Board as a beautiful canvas alongside our Small Plate and Mini Bowl to hold your jams and antipasti. Included in this set is a 7" Gold Cheese Spreader.  Give as a gift or start your own Emilia Collection, thoughtfully designed by our artists to provide a beautiful canvas for your everyday gatherings around the table.
Set Savings of $
Set Includes:
Handcrafted in Cincinnati, Ohio

Hand Wash Recommended - remove the leather strap first.

Due to the nature of the glazing process, colors may vary from pictured.

Leather strap is for decorative purposes only, please do not hold or display using strap.
Please note that all Emilia boards will come with a black leather strap until further notice.
You may also like
Emilia Board Leather Sleeve w/ Strap set (Assorted Colors)
$65.00