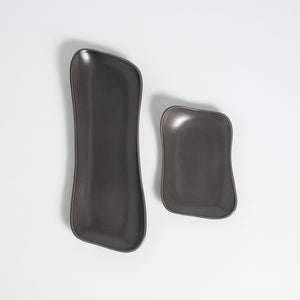 Thoughtfully handcrafted by our artists, our Riverstone Plates bring an easy elegance to your table with an organic, free flowing design inspired by the swirls of the Ohio River - which could be heard from Rookwood's first studio - that also allows for simple serving.  Each plate is delicately glazed by hand in a beautiful blue hue that expresses a natural contrast around the edge during firing. 
Available in two sizes, our large and small Riverstone Plates can serve as a perfect dinnerware set or as works of art on their own, displayed beautifully on your table.
Small Dimensions 7.5" x 5"
Large Dimensions 13" x 4.3"