A Custom Piece of History
Rookwood Custom offers you a handcrafted keepsake for any occasion, big or small, personal or corporate. The possibilities are endless—from custom gifts and awards, to a single one-of-a-kind hand-thrown vase crafted by Rookwood artisans.
Explore our offerings below and get in touch to start your Rookwood Custom project.
Custom Hand Thrown
 Rookwood can bring your custom vision to life on a vase, or a custom hand thrown item of your choice. The ultimate form of artistic expression, we work with our clients to create something that is a representation of your inspiration, and vision through form, glaze, and artistic elements such as carving, hand-painting, and more.
Learn More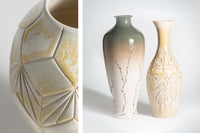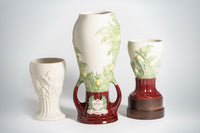 Commissioned Awards and Trophies
Victory is a little sweeter when you're given a handcrafted keepsake to commemorate the occasion. Rookwood artists will work closely with you to craft the presentation pieces for your special event, whether in small batches or large, to mark the ceremonious accomplishments of participants.
Learn More
Custom Commemorative Originals
Creating a completely custom Commemorative piece with Rookwood pottery can take many forms, all of it inspired by you, your vision, and your brand. The options are almost endless, and we will help guide you every step of the way.
Learn More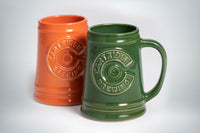 Customized Rookwood Exclusives
We offer many of our standard Rookwood forms with an option to customize to your specifications through custom logo application, glaze selection, and more. This collection features a quicker turnaround, bringing your piece to the hands of your audience that much faster.
Looking for Corporate Gifts? Volume discounts, custom glazes and more are also available...
Learn More
The Rookwood Difference
The Art of Color
Whether through hand-painting or standard spray application, Rookwood glazes are a sight to behold, incomparable to any glazes you've seen before. Rookwood glaze adds a completely unique touch, adding another layer of personalization to your form.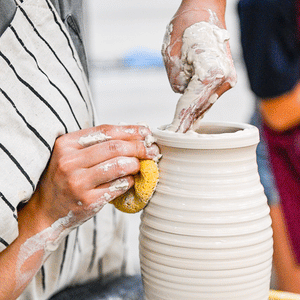 Unparalleled Form
Our hand-throwers are masters at their craft, visually executing your vision in a completely unique way through their trained eye and technical skill.
All in the Process
Three-dimensional objects can be crafted to any quantities you desire through our mold-making processes, duplicating the beauty of your form to a wider audience.
Artistry in Action.
At Rookwood, we are known for our incredible glazes and unique forms. Rookwood Custom offers you the opportunity to play your own special part in the Rookwood story, creating custom works of art that speak to your inspiration, in collaboration with our talented team of artists.