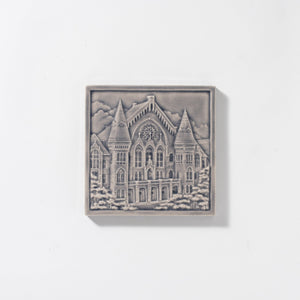 The magnificent structure known as Cincinnati Music Hall was completed in 1878. The Music Hall is home to the Cincinnati Symphony, Cincinnati Opera, May Festival, Cincinnati Pops, Cincinnati Ballet, & more!
Sitting in the heart of the city just across from our beloved Washington Park, this beautiful building has become an iconic Cincinnati landmark. Today, the building is newly renovated. With its great architectural and interior beauty and rich American history, it is registered as a National Historic Landmark by the U.S. Department of Interior.
This tile was originally released in 2009, with beautiful hand carving and intricate details by Gary Simon, making it a treasured token in the ranks of every Cincinnati lover's heart.
Measures 6" x 6"