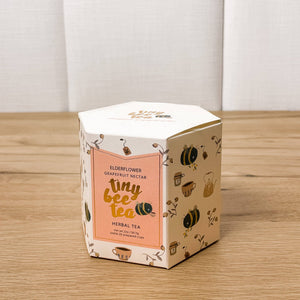 This elderflower and grapefruit herbal blend is pollinated with our specialized tiny bee powers. Subtle notes of elderflower balance sharp grapefruit for a taste that will leave you buzzing. Drink it hot or iced, honey!
Ingredients: Apple, Rosehip Seed, Roasted Chicory Root, Citric Acid, Elderberry Flowers, Grapefruit Peel, Marigold Petals, Flavoring Caffeine-free.
Brewing Instructions: 1 tsp | 8 oz | 212° f | 5-7 mins |
For Iced Tea: brew with 2 tsp tea, let cool, and pour over ice.