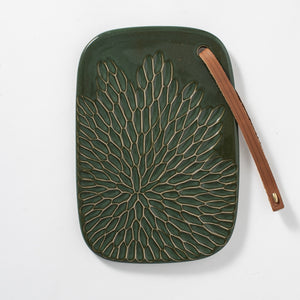 Use this small serving board to share hors-d'oeuvres and side dishes, or as a personal plate. The Share Board fits seamlessly in our Emilia Collection, thoughtfully designed by our artists to provide a beautiful canvas for your everyday gatherings around the table.
Measures 6.5" x 9.5"

Handcrafted in Cincinnati, Ohio

Hand Wash Recommended - remove the leather strap first.

Due to the nature of the glazing process, colors may vary from pictured.

Please note that all Emilia boards will come with a black leather strap until further notice.