EST. 1880
Our founder Maria Longworth Nichols Storer made history on Thanksgiving Day in 1880, with Rookwood becoming the first large manufacturing enterprise founded and owned by a woman in the United States 
Today, Rookwood continues to build upon its rich heritage and Maria's vision through our continued dedication to crafting the highest quality Art Pottery and Architectural Tile in the United States.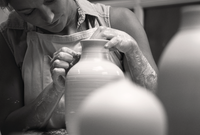 Founder's Day Collection
The Founders' Day 2023 Collection pays tribute to our first kiln opening on Thanksgiving Day in 1880, spotlighting distinctive multi-layered glaze effects on hand thrown vases. Our one-of-a-kind glaze interpretations are designed to complement each unique handmade form.
SHOP THE COLLECTION
NEW Twinkling Trees
NEW BATCH OF TREES AVAILABLE TODAY! Our exquisite hand thrown twinkling trees bring a touch of artistry to your holiday home.
SHOP TWINKLING TREES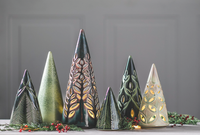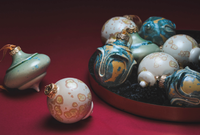 Holiday Gift Guide
Enjoy shopping for unique ceramic gifts by Rookwood to celebrate the holidays.
SHOP HOLIDAY
Emilia Collection in Year-Around and Seasonal Glazes
Elevate your table with the stylish Emilia pieces in our Garland glaze. Mix and match with all our other glazes options to create a rich and vibrant tabletop.
Shop The Fall Shop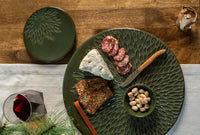 Guided Tours Every Saturday
Join us every Saturday for a behind-the-scenes tour of our factory to learn more about Rookwood Pottery!
Tickets Required | Limited Space Available
Purchase Tickets
Fiona & Fritz!
We love to celebrate Fiona and brother Fritz. 10% of proceeds from our Fiona and Friends collection go to support the Cincinnati Zoo & Botanical Gardens.
Shop Fiona And Fritz Collection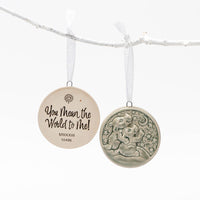 Candle Workshops
Come join us at our OTR Factory & Flagship Store to create your very own candle! Pick out a Rookwood Emilia vessel in your favorite glaze and our team will guide you through making a custom blend from our selection of over 20 scents. 
Learn More and Purchase Tickets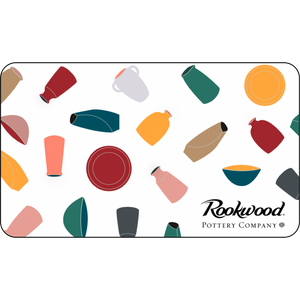 Freshen Up Your Home for The Holidays
Rookwood has proudly manufactured Architectural Tile in Cincinnati, Ohio, since the turn of the century. Get inspired by our latest glazes and designs.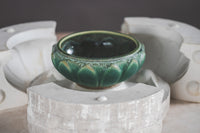 The NEW Dewdrop Glaze
We've reached into our historical archives to give pieces a refreshing elegant twist with this unique double-matte, dual glaze. Check out the beauty and elegance of Dewdrop in our Heritage Collection.
The Heritage Collection