Your Vision Brought to Life
We work with our clients to develop pieces based on a variety of factors—from building something based on design preference, to creating a piece of familial significance and recognition. We have seen and created a wide range of projects with variation of size, glaze, and artistic decoration including carvings, hand-painting and more. No project is ever too big or too small for Rookwood Custom.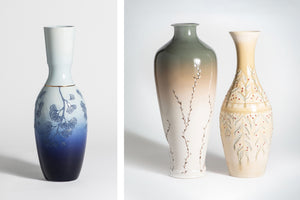 Statement Vases
Statement Vases starting at 20" and up. Statement vases generally feature a custom shape design, carvings, artwork, and glaze coloring to match your personal expression. Prices starting at $1400 and up.
CONTACT US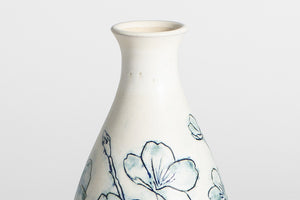 X-Large Vases
Featuring vases ranging in size from 15" to 20" Our Large Vases feature custom shape designs, embellishments and glaze coloring. Prices starting at $1000.
CONTACT US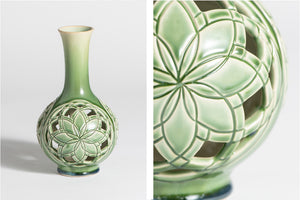 Large Vases
Featuring vases ranging in size from 10" to 14". Our Large Custom vases generally utilize a traditional Rookwood form, and feature a glaze treatment and embellishments that correspond to your design preference. Prices starting at $600.
CONTACT US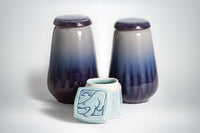 Custom Hand-Thrown Urns
Our clients look to Rookwood to help memorialize their loved ones in the most beautiful and artistic way, through one-of-a-kind, timeless Urn designs. Our Hand-Thrown Urns, crafted by our potters, come in a variety of sizes to honor your loved one.
Contact Us
Small-Batch Hand Thrown Forms
Let our artisans create a custom hand-thrown form for your next event or special occasion. Whether for the bride and groom, or your next personal or corporate event, our artisans can create a set of custom items to meet your needs and match your artistic expression. Our selection of Hand Thrown Small-Batch Products includes a range of products, from ring trays and jewelry boxes to mugs, plates, cups and more!