Custom Commemorative Awards & Trophies
Image slide

Tell your brand's story through images
Custom Commemorative Awards & Trophies
Image slide
Tell your brand's story through images
Celebrate with One-of-a-Kind Artistry
An award or trophy made by Rookwood allows you to bring your vision to life, through direct consultation with our Rookwood artists, creating a true work of art. Mark your special event or competition with a stunning presentation piece. Our artists can take words or images significant to your event or organization, and use that as inspiration to create a masterpiece to mark your closing ceremony, event, or competition. Our hand-painting artists can take your color inspiration and apply glazes to finish the piece in a truly show-stopping, and completely one-of-a-kind way. Our goal is to create a design that embodies your brand's spirit through time-honored Rookwood hand-crafted traditions.
HOW IT WORKS:
Standard mold fee applied upon first order. No additional mold fees for re-orders. No Minimums. Lead Time: 13-22 Weeks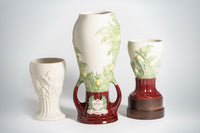 A Tradition of Elegance
Cincinnati hosts the Western & Southern Tennis Open every year. Rookwood Custom has been honored to craft the champion's trophy—otherwise known as the Rookwood Cup—for over a decade. Decorated with hand-painted tennis balls nestled in acanthus leaves, these trophies go on to live in the permanent collections of the world's finest tennis players. Following the design of the Rookwood Cup, several other pieces are created for runners-up of the tournament to pay homage to their efforts.
Contact Us
Scripps Spelling Bee
The event that captures the attention of the hearts and minds of America, the Scripps National Spelling Bee approached Rookwood Custom to create their champion's trophy, as well as a small award to all participants. Rookwood took the time to understand the Bee's history and incorporated elements that spoke to the ideals and symbols that the annual event holds dear, creating completely unique masterpieces to cherish for a lifetime.
Contact Us