Custom Commemorative Originals
Custom Commemorative Originals
A Customized Commemorative Keepsake
Creating a Commemorative Original piece with Rookwood can take many forms, from Mugs to Ornaments, Tile and more. All of it inspired by you, your vision, and your brand. Rookwood artisans can take anything from a word significant to your brand or company's history, a mission statement, logo, or symbolic image, and use that as inspiration to create a unique piece that speaks to you and your audience. Plus, our incredible glaze chemist can even take your color(s) of choice and match them exactly to your brand.
HOW IT WORKS:
Standard mold fee applied upon first order. No additional mold fees for re-orders. Minimums start at 50 units. Lead Time: 12-16 Weeks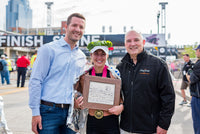 Commemorate your Next Event or Award Ceremony
A custom ceramic commemorative tile made by Rookwood is something that recipients will treasure for a lifetime and display proudly in their home. Pay homage to their achievements with a unique and heartfelt symbol of their performance that they will always remember.
Contact Us
Cheers to Milestones
Braxton Brewing in Covington, Kentucky approached Rookwood to commemorate their special anniversary with a custom stein. Complete with hand-carved details that celebrate the symbols of the brand, this elegant stein is complete with beautiful blue detailing and interior, matching the brewery's branding to a T.
Contact Us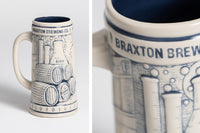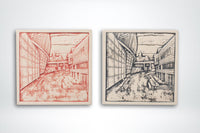 Landmark Moments, Handcrafted Keepsakes
University of Cincinnati was celebrating their 200th Bicentennial and wanted a custom piece to commemorate the occasion. Our artists took a section of the heart of their campus and hand-carved details to a stunning degree of accuracy. Glazing them in Red and Black, the Bearcats' signature colors, brought out the stunning detail of the tile's surface. Alumni, current students, faculty and staff can now remember their beautiful University and celebrate how far it has come with this handcrafted remembrance.
Contact Us
Bringing the Cheer All Year
Rookwood Custom will work with you to make a custom ornament to bring your brand the cheer of the holidays. Samuel Adams' OTR Taproom collaborated with Rookwood on this custom ornament that highlights the signature shape of their glassware, and a crest logo to commemorate their taproom. With an amber brown ribbon to harken to their delicious brews, this ornament is now sold through their taproom for their loyal fans.
Contact Us