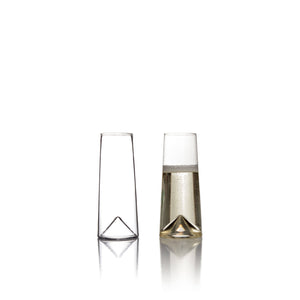 Two champagne glasses in a gift box The Monti Collection is the first from Sempli with a flat bottom. It was created to enhance the effervescence of carbonated beverages as it's not to be stirred or swirled. The flute holds 6 oz. of your favorite champagne.
Designer: Daniele 'Danne' Semeraro
Brand: Sempli
Material: Lead free crystal
Color: Clear Includes: 2 Monti-Flute Glasses 
Care: Hand wash recommended Measurements: Height 5.5" Diameter 2.25" Capacity:  6 oz.