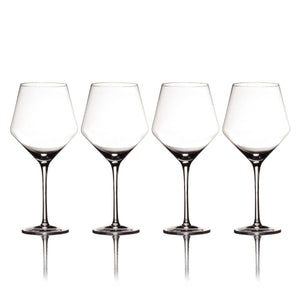 Four Barolo wine glasses in a craft brown box Named after the king of Italian wines, the Barolo glass has the gusto to elegantly showcase even the biggest and boldest of wines in its large vessel. This roomy glass is the perfect excuse to open up one of those bottles you've been stashing in wine cellar for years- you know which one we're talking about! At Sempli we are always evolving while staying true to our dedication to simplicity and elegance. Our first stemmed wine glass has finally arrived and is unparalleled in quality and craftsmanship. Each glass is individually hand-blown with the stem and foot expertly shaped from one single piece of glass. Our artisan glass masters meticulously follow over 30 steps to create each piece of Sempli stemware.
Designer: Daniele 'Danne' Semeraro
Brand: Sempli
Material: Lead free crystal
Color: Clear
Includes: 4 Barolo Wine Glasses
Care: Hand wash recommended
Measurements: Height 9.5" Diameter 4.25" Capacity:  23.5 oz.