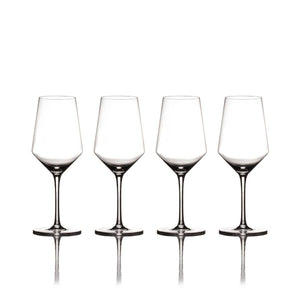 Four Chianti wine glasses in a craft brown box Everyone knows Chianti and Chianti knows everyone. Like the great Tuscan wine, the Chianti glass is your everyday go-to glass that just works for whatever your mood or whatever you're pouring. Just like a good friend, the Chianti glass will be there for you through anything… like red, white, rose or even those bubbles. At Sempli we are always evolving while staying true to our dedication to simplicity and elegance. Our first stemmed wine glass has finally arrived and is unparalleled in quality and craftsmanship. Each glass is individually hand-blown with the stem and foot expertly shaped from one single piece of glass.
Designer: Daniele 'Danne' Semeraro
Brand: Sempli
Material: Lead free crystal
Color: Clear
Includes: 4 Chianti Wine Glasses Care:
Hand wash recommended Measurements: Height 8.375" Diameter 3.25" Capacity: 13.7 oz.