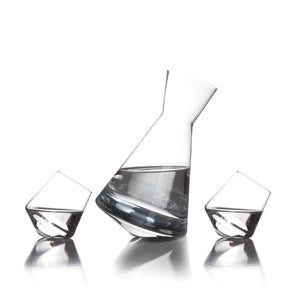 One clear sake decanter and two clear shot glasses in a gift box This hand blown glass set is designed to serve your favorite sake, hot or cold. The decanter comfortably fits one 350ml bottle and includes a set of two Cupa-shot sake glasses. Hand-made from lead-free crystal, their unique stemless construction creates a swirling rotation when set down—which assist the aeration of fine spirits.
Designer: Daniele 'Danne' Semeraro
Brand: Sempli
Material: Lead free crystal
Color: Clear
Includes: 1 Vaso-Sake decanter and 2 Cupa-Shot glasses
Care: Hand wash recommended
Measurements: - Vaso-Sake Decanter Height 6.8" Diameter 3.75" - Cupa-Shot Height 3" Diameter 2.5"   Capacity: - Vaso-Sake Decanter 13.5 oz. - Cupa-Shot 3 oz.