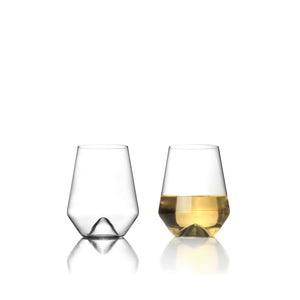 Two white wine glasses in a box As companions to the successful Monti-Decanters, these ultra clear, lead-free crystal wine glasses have a design that'll steal the show at your next dinner party. Designed perfectly for white wine, Monti-Bianco comfortably hold a standard 5oz pour, which measures just above the waist of each glass, but easily holds up to 12oz if filled. Each glass and its center showcases the inspiration of the Italian Alps for this creation.
Designer: Daniele 'Danne' Semeraro
Brand: Sempli Material: Lead free crystal
Color: Clear
Includes: 2 Monti-Bianco Glasses 
Care: Hand wash recommended Measurements: Height 4.5" Diameter 3.5" Capacity:  17 oz.