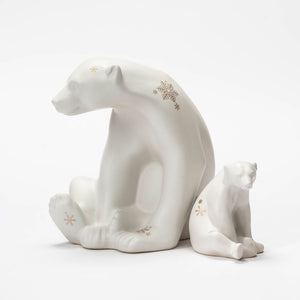 This special limited edition snowflake bear was created with the spirit of the season in mind. This beautiful, elegant form is adorned with careful placed snowflakes to add that extra touch of whimsy.
In 1934, Rookwood designer Louise Abel designed a  paperweight-size sculpture of a seated bear. Abel worked with Rookwood Pottery from 1919 to 1932, and the paperweights, bookends, and figurines she crafted largely feature animals. According to a 1943 issue of American Collector, Abel often sketched and modeled her sculptures from animals at the Cincinnati Zoo: "She has more than once sat for hours waiting for one of her subjects to get into a position suitable for modeling."
Please note that the placement of snowflakes will vary due to the hand crafted nature of this product. This uniqueness, we celebrate.
Dimensions:
5.0" W x 4.0" H x 3.5" D