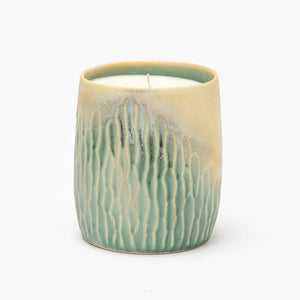 This candle is entirely made by hand - from the vessel to the glaze, to the scent. Fragrances are mixed with wax and hand-poured in-house for a candle that will burn for over 100 hours. Once the candle has finished burning, the vessel can be cleaned out and repurposed to hold fresh flowers, jewelry, small tokens, you name it!
Measures 5.5" tall by 4.5" wide
Fragrance Notes: Cozy Sunday Morning- A refreshing blend of citrus & herbs! Sweet basil, lime, and wild mint joining together with geranium, linden blossom, and cyclamen.
PLEASE ALLOW AT LEAST 2 WEEKS FOR SHIPPING!