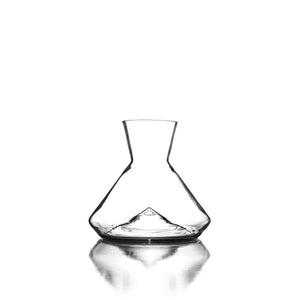 One decanter in a craft brown box As an companion to the successful Monti-Decanter, this ultra clear, lead-free crystal decanter uses a design that'll steal the show at your next dinner party, and noticeably change your pours for the better. When wine is decanted, the oxygen exposure allows the flavors to develop in seconds, not years, so you get a brighter bouquet and clearer tasting notes. While pouring, the wine falls on top of the peak and aerates in a beautiful cascade down the mountain. Holding up to a full standard 750ml bottle of wine, the decanter and its glass center peak showcases the inspiration of the Italian Alps for this creation.
Designer: Daniele 'Danne' Semeraro
Brand: Sempli
Material: Lead free crystal
Color: Clear Includes: 1 Monti-Mini Decanter 
Care: Hand wash recommended Measurements: Height 6" Diameter 6.5" Capacity:  25.3 oz.